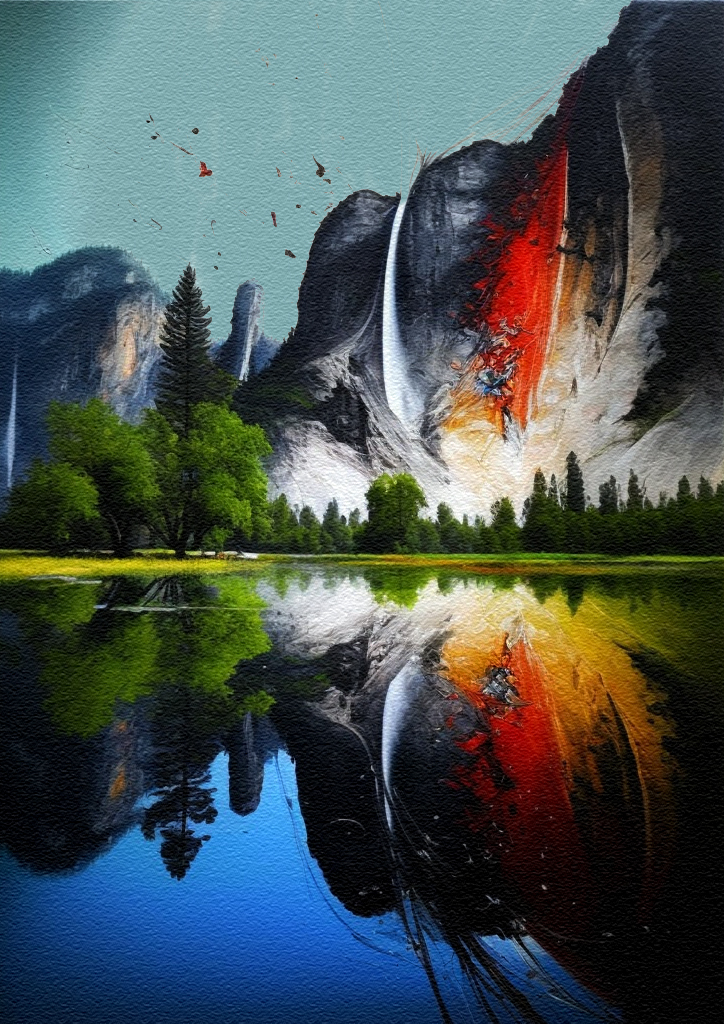 Original Artwork Digital Mix Ai
Yosemite National Park Digital Painting
Yosemite National Park is one of the most iconic and picturesque natural landmarks in the United States, known for its breathtaking views of granite cliffs, waterfalls, and giant sequoia trees. This stunning landscape has inspired many artists over the years, including the famous American painter, Albert Bierstadt.
Bierstadt's Yosemite paintings are some of the most famous depictions of the park. His 1868 painting, "Yosemite Valley, Glacier Point Trail," captures the stunning beauty of the park with incredible detail and realism. The painting depicts the towering cliffs of Yosemite Valley in the distance, while a peaceful stream flows through the foreground. The painting's vibrant colors and careful attention to detail make it a true masterpiece.
Another famous Yosemite painting is "Yosemite Valley" by Thomas Hill, completed in 1888. This painting depicts Yosemite Valley from a different perspective than Bierstadt's painting, with a focus on the towering granite cliffs and the Merced River in the foreground. The painting's dramatic lighting and intricate brushstrokes make it a stunning portrayal of the park's natural beauty.
Yosemite has also been an inspiration for contemporary artists, including the painter Ansel Adams. Adams was famous for his black and white photographs of Yosemite, which captured the park's grandeur and beauty in stunning detail. His photographs of Half Dome and El Capitan are some of his most famous works and have become iconic images of the park.
In recent years, Yosemite has also inspired many abstract artists, who have created colorful and dynamic paintings that capture the park's energy and vibrancy. These paintings often incorporate bold colors, sweeping brushstrokes, and abstract shapes to create a sense of movement and vitality.
Overall, Yosemite National Park has been a source of inspiration for many artists throughout history. From Bierstadt's realistic depictions to Adams' iconic photographs and contemporary abstract paintings, Yosemite has a unique and enduring beauty that continues to inspire artists today.